Q: Dr Peaches and Miss Pickles, it's Mother's Day weekend… What are you going to do??
A: We're going to Disneyland!!!!
Ok… I know. Mother's Day has already happened. But let me tell you about our trip to Disneyland!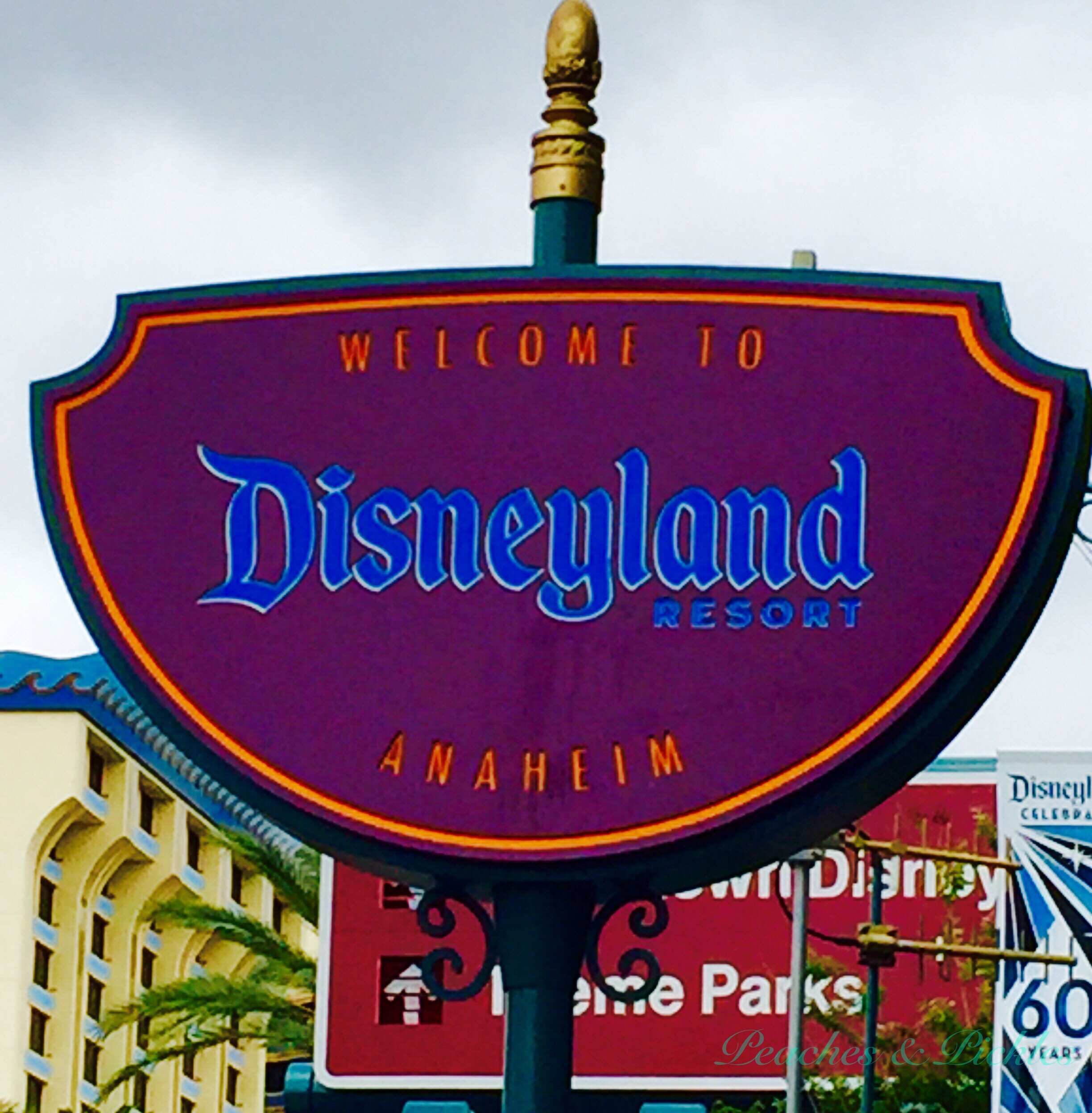 I had heard a lot about Disneyland…
"The park is really small." "The staff at the parks is rude." "It's not as much fun as Disney World…"
You gotta be careful with what folk tell you…
The facts:
1. Getting there: Disneyland is located in the lovely city of Anaheim, California. We flew into LAX, but there's also access to Anaheim from John Wayne airport (SNA). Compare flights to both to get the best prices. From LAX, Anaheim is about an hour drive.
2. Yes, Disneyland is smaller than DisneyWorld. Much smaller. But there's still plenty to do!
There are 2 parks: Disneyland (DL) and California Adventure Park (CAP).
3. CAP seems to celebrate the outdoors of the Southwestern USA mixed in with California cool. There's a Main Street with all its shops and charm. The merchandise is of the same Disney quality, but with the obvious changes of having Disneyland printed on items (as opposed to Walt Disney World (WDW)). There's also merchandise that I hadn't seen at WDW. There's a section of the park themed after the movie "Cars," with the main drag reproduced right from the movie.
Paradise Pier is a CAP exclusive.
Featured is the California Screamin' roller coaster and the Fun Wheel (Ferris wheel) as its central attractions. California Screamin'…yeah, I'm hot or miss with roller coasters these days. So, I missed it. ( And the Chicken of the Year award goes to….) But from the squeals and screams I heard, those brace souls got what they came for! The Fun Wheel has 2 options for riders; ride a gondola that swings back and forth, or ride a stationary one. From all angles, the Fun Wheel offers amazing views of both parks, and beautiful Anaheim.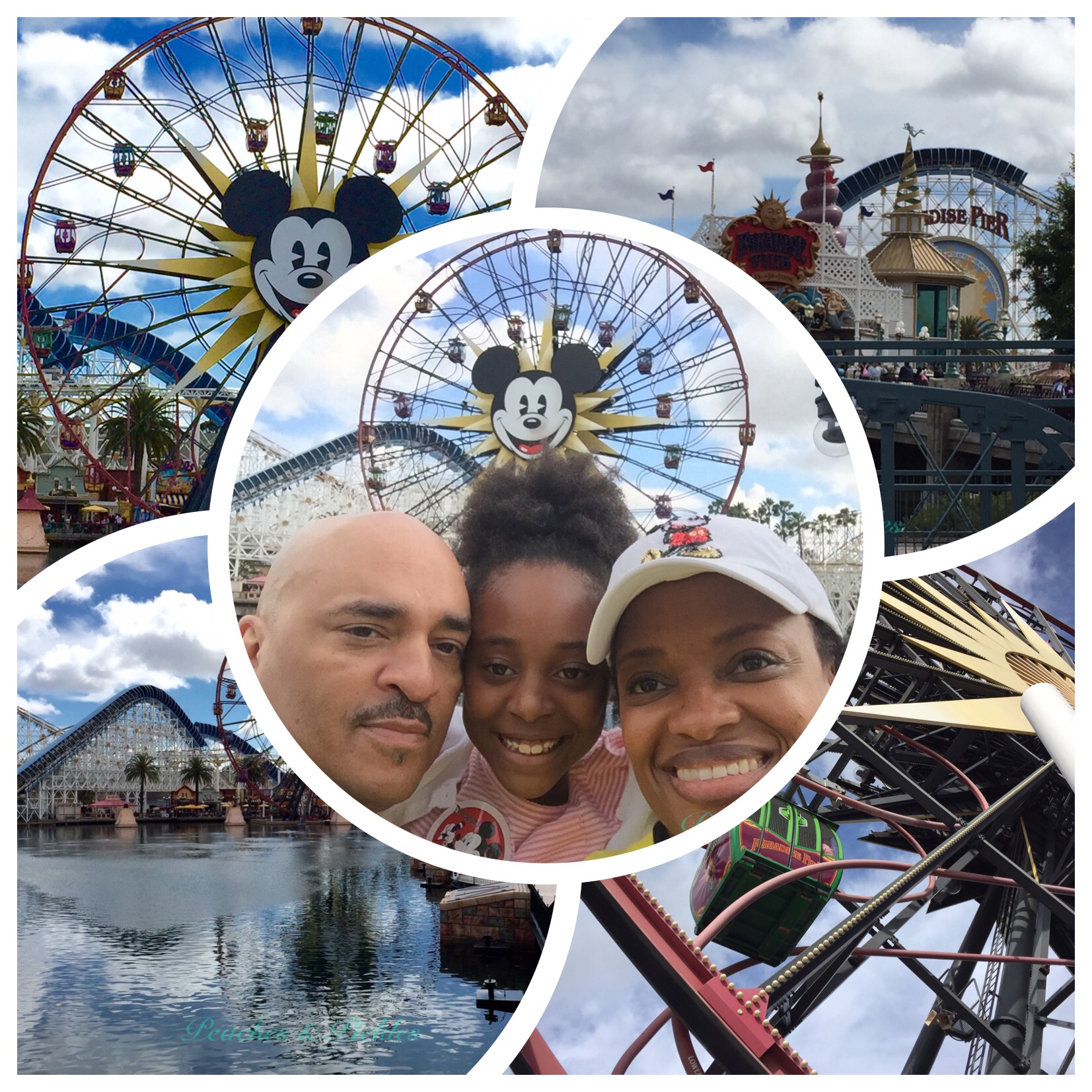 4. Street Performances and Parades.
One word: TALENT.
I always enjoy the street performances and parades at Disney. They showcase not only characters, but also very talented dancers, singers, and acrobats! Yes, someone was doing giant swings around a bar while on a moving float… Incredible! CAP parades also feature their own marching band playing Disney favorites.

5. Disneyland.
Transport yourself into fairytales and sci-fi adventures in Disneyland. Some rides are familiar from our trips to WDW; AstroOrbiter, StarTours (a really cool Star Wars simulator), It's a Small World, Flying Dumbo, Peter Pan and the Teacups to name a few. DL has Hyperspace Mountain, Alice in Wonderland, and our favorite, the Matrerhorn Bobsled.
Sleeping Beauty castle is very majestic and beautiful, though not as grand as Cinderella's. (Sorry, Aurora)
Be sure to stop by The Mad Hatter for Mickey ears! We make it a tradition to get a differnt pair of ears to commemorate each trip!
This may very well be my favorite part of any Disney trip… Shopping??! Eating??!!!! Yes, to all of that!
Downtown Disney at Disneyland can probably boast to having more Disney packed in per square mile than anywhere!
I love World of Disney! You can get basically EVERYTHING Disney. Merchandise is not limited to cute tees and hats. You can find jewelry, artwork, home items, toys, and the exclusive Disney Dooney & Bourke collection. I loved the Star Wars themed handbags, but the Force (aka my husband) pumped the brakes on that purchase..(there's always next time, though)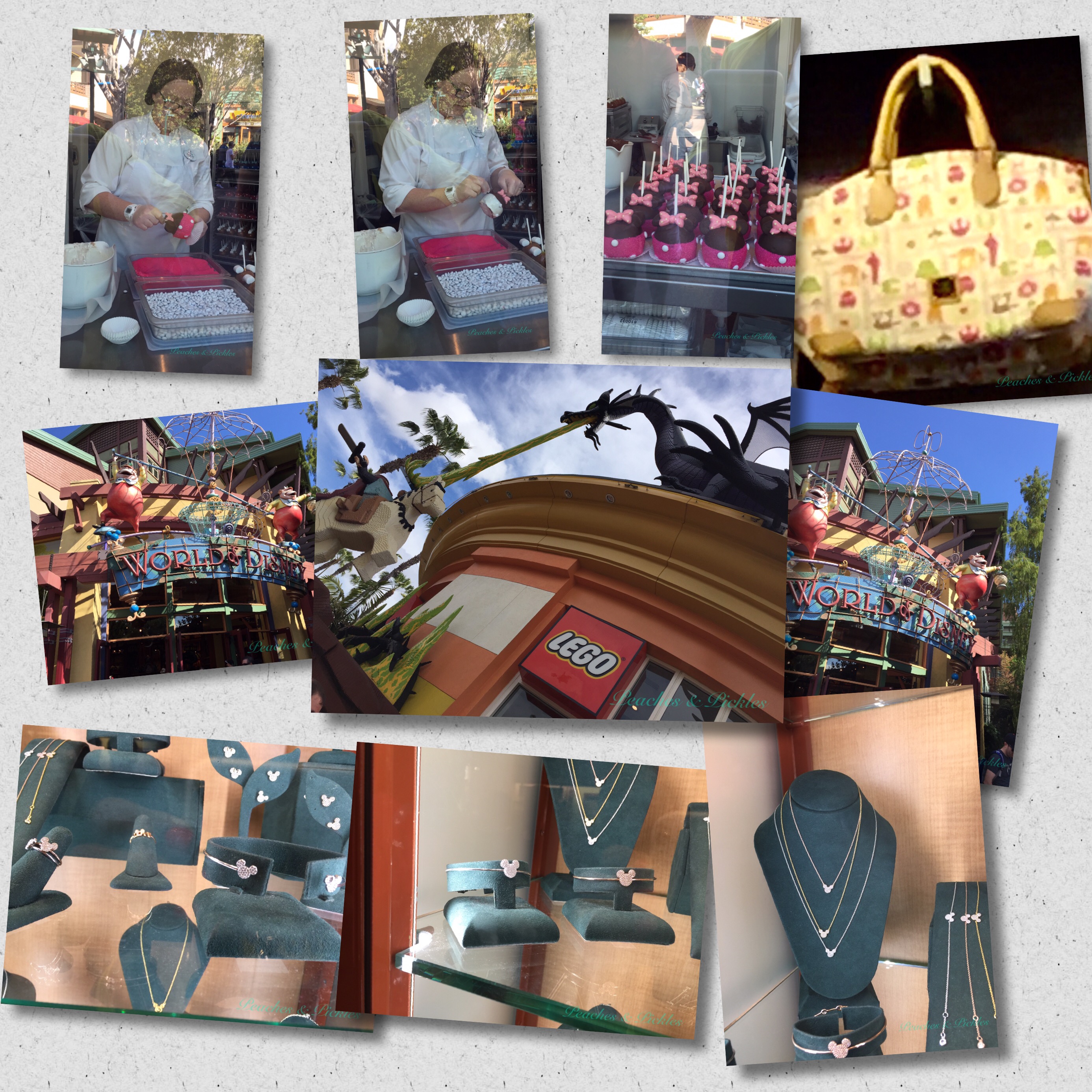 7. Did you know there's a Disneyland app???
Download it before you go to the parks. There are maps of attractions with wait times, which is really helpful. Knowing exactly where the restrooms are is a bonus!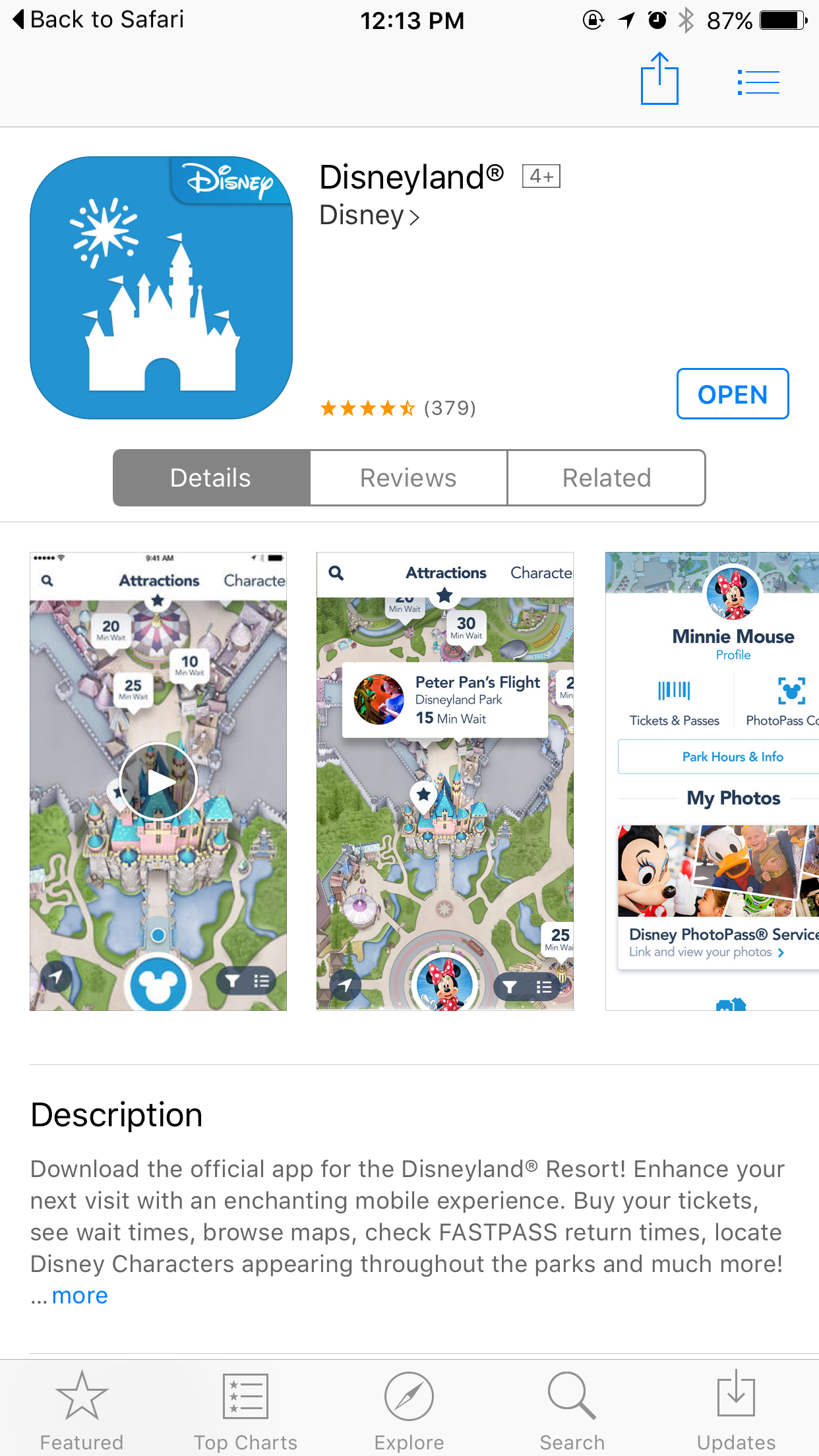 8. So what's the difference?
The parks are smaller in Cali, but this makes navigating the parks a lot easier. WDW requires several days to see all they offer, but DL/CAP can be easily conquered in 1-2 days without feeling completely spent! We slept in (this is vacay, after all)… Arrived at the park in the early afternoon, and still had plenty of time to see and do everything we wanted, including time for standing in lines. Some of the wait times were excessive, but that's par for the course…
Magic Bands. WDW uses Magic Bands, which serve as your door key, method of payment, load park tickets, and fast passes all on your wristband. DL/CAP doesn't have this yet. So to get Fast Passes, you have to physically get it at the ride, instead of digitally through the Disney app. DL also still uses paper tickets, so plan to keep up with that.
9. Resorts.
Usually, I stay at a Disney resort and previously hadn't even considered staying anywhere else.
At WDW, that option is moreso one of convenience…
No driving. No traffic. No trying to find a park. (Who needs this crap when you're on vacation?)
However, the 3 resorts on property (Grand Californian, Disneyland Hotel, and the Paradise Pier Hotel) booked up pretty quickly, so we used a "Disney approved" partner hotel.
We stayed at the Anaheim Hilton, which was literally right across the street from the parks. A quick 10 minute walk had us at Downtown Disney and the parks. While I'd love to experience one of the resorts on my next trip, I'd be ok with the Hilton as well.
Tip: The Disney website has links to partner hotels, but also look at these hotels' websites to compare prices and see any special offers.
10. The Negative…
There was only one. Several of the rides were closed for repair or refurbishment. While I understand and appreciate Disney's respect and commitment for safety and the best possible experience for its guests, when the park is smaller, and several rides aren't operating….there's a little less Disney Magic.
But all in all… I had a blast! And as usual with my time at Disney, it ends too soon, and I can't wait to get back!
Travel well!
❤️,
Dr. Peaches & Miss Pickles