While I did receive complimentary entrance to Six Flags Over Georgia  to attend the Holiday In the Park event, all opinions in this piece are my own. All photos are mine, except where indicated.
Wondering what to do with kids over the Thanksgiving break? Head over to Six Flags Over Georgia for their Holiday In the Park event! Miss Pickles and I were invited to the park for the Christmas tree lighting,  and I must say, we had a blast!
The park has 30 special holiday-themed attractions, and each was more dazzling and really was a great way to kick off the holiday season! Holiday In The Park will operate on select nights until January 3, 2018. Although this is a special event, season pass holders will have unlimited access to attend this event.
SFOG is adorned with over 1 million lights!
As son as you walk through the entrance, there's a canopy of red and green lights leading to the main stage where the enormous Christmas tree welcomes you into the spirit of the holiday, as well as to the park. Did I mention the snow? Snow is not something we see with regularity in the Atlanta area, so it wa a really treat to experience winter at a balmy 60 degrees last night! ( Snow and it's not freezing outside? Yes, please!)
At the main stage were Christmas carollers in turn of the century Victorian costumes.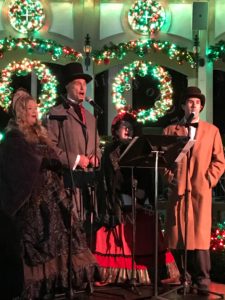 There was also a singing competition, where 2 families belted out holiday hits.  All of this pomp led to the big event of the night, the lighting of the Christmas tree. My favorite part was walking thought the musical tunnels, where the lights dance to the holiday music. A-maz-ing!!!
The Winter Wonderland area near Santa's cottage couldn't have been any more beautiful, all bathed in white lights.
There are several canopies around the park, which serve as perfect backdrops for family holiday card photos! I absolutely loved the Carousel flocked in lights and surrounded on all sides with lighted trees. All your favorite Looney Tunes characters turned out for the event as well, and dressed in their holiday finery.
Water rides are closed for the season, and some of the coasters were closed as well.  In spite of this, there were plenty of rides open for thrill seekers big and small! The weather was perfect, and even though the days are shorter, the park couldn't have been any more beautiful !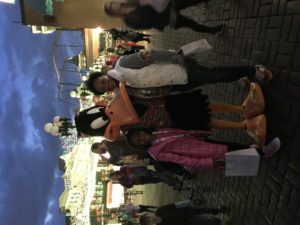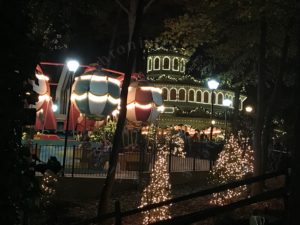 The overall vibe was very cheery, and I'll be honest, now that I've been to SFOG, I'm really ready for the holiday season! As always, SFOG is a great place, (and at a great price) to make memories with your family, not only at holiday time, but all year round!
Many thanks to SFOG for inviting us to this event! We wish you all a safe, healthy and happy holiday season!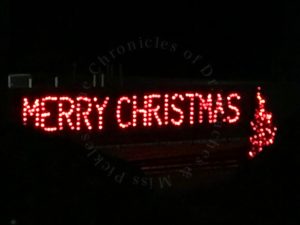 Travel well and enjoy life!
love,
Dr. Peaches & Miss Pickles
P.S. Head on over to our Facebook page, The Chronicles of Dr. Peaches & Miss Pickles, to see live video from the park!