Welcome to our new series, Growing By 2 Feet.
What is Growing by 2 Feet?
Our family is!!!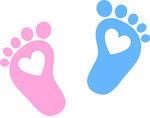 My husband and I have wanted and been trying to grow our family for many years. Unfortunately, we were not able to do that the old-fashioned way. LOL  But apparently, God had other plans for us, and led us to the path of adoption. I've been so excited to share this with y'all, but wanted to wait until we had our official approval. Well, that came a few weeks ago, and so we are undertaking this journey to grow our family through adoption. I've been journalling about the process and am excited to share this journey with y'all. Hopefully, it will educate, inspire and encourage those about adoption.
Y'all ready?
Let's go!!